COMMUNITY ACTIVITIES

CONTACTS


Aerobics-Joanne Stewart 237-1305
Women's Bible Study-Loretta Espey 235-3518
Book Exchange-Veronica Bucello 237-7334
Bridge (Ladies)-Suzie Albright 237-1594
Bridge(Marathon)-Danny Phillips 235-9338
Bridge(Men)-Norm Nuding 237-2275
Garden Club-Pat Crimmins 235-6462
Golf-18 holes(Men)-Vince Franco 237-9190
Golf-9 holes(Men)-Bill Huish 237-5631
Golf-18 holes(Women)- Joan Sheldon 235-2357
Golf-9 holes(Women)-Pat Bowen 235-8981
Golf-Mixed Tour-Marion Culpepper 235-2993
Golf-Sunday Couples-Dale Guzlas 235-3006
Golf-X Tour - Ernie Heilberg 235-2610
Gourmet Diners Club-Celise McLaughlin 235-8532
Mah Jongg-Lynn Autorino 237-7745
Needleworkers-Loretta Espey 235-3518
Newsletter-Celise McLaughlin 235-8532
Newsletter Advertising-Bill Renault 235-3566
Poker(Men)-Vinny Autorino 237-7745
Telephone Directory-David Philips 237-0494
Tennis(Men)-John Hoover 235-0261
Tennis(Women)-Nancy Malara 235-9344
Water Aerobics-



COMMITTEE CHAIRS


Buildings & Grounds/Pool/Tennis Courts
Bob Brown at rfbrownsr@aol.com
Social Activities
Harry Stewart 237-1305
Clubhouse
Tom Ellison 235-8071
Covenants Committee
Jeanette Renault 235-3566
Architectural Review Board
Vince Civitarese 237-3568


Annual Property Owners meeting
Tuesday February 27, 2007
Coastal Carolina campus, Willbrook Boulevard
begins promptly at 6:00 P.M.


SOCIAL ACTIVITIES
By Harry Stewart

Thank you to Frank Walsh for organizing the lipid panel profile blood test in June, the flu shot clinic in October and a stroke seminar in January. All three events were held at the pool clubhouse with the assistance of Georgetown Community Hospital.

The first dance of 2007 was held on January 20th and was attended by 60 Tradition residents. The next dance will be on St. Patrick's Day. See inside for upcoming dates and watch your paper box for information flyers.





The first annual fine arts exhibit held on February 10th & 11th featured paintings and splendid artworks by community residents.






Volunteers are needed
2007 Tradition Community Yard Sale
The sale is usually held the first Saturday in May. Please contact Harry Stewart @ 237-1305 if you would be interested in helping with this annual event.


February 2007 will end my three-year term in office as a Tradition Board member. I would like to thank all the board members and community volunteers for your assistance with the various events over the three years. It has been a pleasure to serve the Tradition community. Thank you for the opportunity.

THANK YOU HARRY

The Newsletter is published by and for
the Homeowners of the Tradition Community
Hard Copy Spring Edition scheduled to be delivered to your door mid February
Next Newsletter June 2007 Submit articles to:cmclaughlin@sc.rr.com
---
P2
Return to Top
PRESIDENT'S CORNER
By Frank D'Amato

Happy New Year!


I hope everyone had a happy and safe holiday. I want to thank Pat and Bill Crimmins and their elves for volunteering their time and energy to decorate the pool house and around the community.

The Board of Directors (BOD) has been very busy since our last newsletter. As you are all aware, it was necessary for us to raise the regime fees by $4.00 per month. This is not always an easy decision for the BOD, however, the increase is required to maintain the community and keep up our home values.

The BOD and Bob Brown, our maintenance manager, have a considerable list of improvements scheduled for 2007. We will do the next phase of seal coating; We are looking at upgrading our pool filter system and adding four more concrete tables to the pool area. We will also continue to upgrade the planting around the community. We hope everyone is pleased with the work around the front entrance.

This years Annual Property Owners meeting will take place on Tuesday February 27, 2007 at the Coastal Carolina campus at the end of Willbrook Boulevard. The meeting will begin promptly at 6:00 P.M. Please mark your calendar and plan to attend this meeting. Besides the usual financial report, you will be asked to vote on a number of very important issues. All issues on the proxy card will be explained to you in the mailing you will receive from Chicora, our management company. I can further answer questions at this meeting.


Return your Proxies ASAP


Normally, we only receive approximately 52% responses on the proxy cards. Anything less than 50% makes the meeting invalid. Two of the issues on the proxy are to change our bi-laws. These changes require a 67% vote in favor. We would hope that all property owners will understand the need to vote in favor of all the issues recommended by the BOD. Please read the information in the mailing and return your proxies immediately. Delays seem to lead to forgetfulness and then no response from many property owners. Many of us feel that in state and federal elections our vote does not have an impact but our community only has 405 voting properties, and your vote can impact the way we protect your investment in the Tradition.

The Annual Meeting will look back at 2006 and give a forward look at 2007. Please invest two hours of your time and get answers to any of your questions. All minutes of BOD meetings can be found on our web site (qualitykid.com) as well as the schedule times for BOD meetings. Everyone is welcome.

As a side note: your Board of Directors has met with representatives from the other associations in the vicinity regarding the new school and library being built off of Willbrook Boulevard. We further met with Jerry Oakley and Glenn O'Connell, from the Georgetown County Council, to discuss our concerns regarding additional traffic. Only time will tell if we were successful in our attempt to route traffic from the new school to Highway 17 without using Willbrook Boulevard.

See you at the annual meeting.

Litchfield By The Sea
Got new decals?
Beach access will be deactivated if barcodes are
not updated by March 1st
Send your forms to Waccamaw Management
Tradition License Plates
Contact: Paul Kelly at 237-1898
islandkelly@aol.com
$10.00 per plate or 2 for $15.00.

---
P3
Return to Top
BUILDING & GROUNDS
By Bob Brown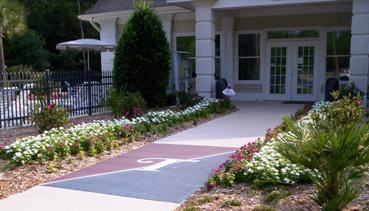 There have been several complaints concerning shrubbery that is overgrown and partially blocking sidewalks. The Building & Grounds Department has cut back this type of growth at the common areas and if the residents would take care of this problem on their property, the people who use the sidewalks would be most appreciative.

A concern has been raised over the amount of dirt/sand on our streets. Pryor Landscaping blows off the streets bordering the common areas. The problem areas are at the cul de sacs where there is poor drainage. We investigated professional street sweeping and it is quite costly. The consensus is that the homeowners or their lawn service companies should be able to take care of the areas in front of their residences. If the dirt/sand is blown into the grass, it will not harm it.


HEART OF THE COMMUNITY
Volunteer Recognition
In recognition of all the volunteers
who have helped in improving and maintaining the community this past year
Common Area Irrigation and
Pond Fountain Maintenance
Dan Coughlin, Marion Culpepper, Jim Davis,
Tom Ellison, Tom Maguire, Tom Shaw,
Chuck Olnhausen and Bob Thompson
Jim Parker
(also stocks the fish in the ponds)

Pool Deck Power Washing and Painting
Steve Boggess, Martyn Collis,
Frank D'Amato, Jim Davis, Ron Eaglin,
Bill Kendall, and Alan MacDonald

Pool Opening Day
Dick Albright, Jim Conway, Frank D'Amato,
Clare Kelly, Meg Maguire, John McLaughlin,
Walt Murren, Dave Philips, Bill Renault,
Jack Starrick and Bob Thompson

Fall Clean-up Day
Ron Belbutowski, Jim Conway,
Bill Crimmins, Frank D'Amato,
Tom Ellison, Lou Fossi, Walt Murren,
Roy MacSorley, and Bill Renault


Jim Conway
Maintains signage, post bottom replacements, stop sign replacements and various other projects
Tom Hicswa
Stucco Repair
Tom Maguire
Telephone repairs
Jim McKay
Post Bottom Replacements
Joan Murren
Window Treatments at Club House
Walt Murren
Post bottom replacements, stop sign replacements, installation of curtain rods and curtains in Club House and various other projects.
Nancy Palisin
Landscape advice and assistance
Bob Thompson
Oversees care and maintenance of the Club House, marking of irrigation heads to prevent damage, and various other projects.
Derek Vander Schaaf
Landscape lighting, installation of new lights in Club House, Electrical outlets in island at Club House, repair of ductwork and wallboard in pool chemical storage room, irrigation motor repair, and various other projects.

Thanks to Clay Dubose, Tradition Golf Course Superintendent, for his advice and cooperation.


I hope I haven't overlooked anybody; if I have, I sincerely apologize. Thanks again for all your help

---
P4
Return to Top

ARCHITECTURE
REVIEW BOARD
By Vince Civitarese



Hello Tradition Residents,

As we start another new year I hope all is well with you and your family.

The New Year means a lot to The Tradition because all of the committees are working to revise our covenants and the ARB guidelines. We are planning to place these revisions out to you for a vote in the early part of the year.

Your vote is critical to the changes. If we do not get the necessary quorum to carry the changes we will have wasted all the time put in by the committees but more importantly we will not be able to grow and change as time requires us to do.

The ARB has only made a few minor changes which you will see in the mailings that will be sent to you. Please review the packet and be sure to cast your vote.

Thank you for your help.



Vincent Civitarese
Chairmen ARB


COVENANTS
By Jeanette Renault


This is the quiet time for your Covenants Committee. Dormant lawns do have some pluses.

Our focal point this newsletter is pet waste. Many thanks to all of you dog lovers who conscientiously clean up after your pets.

Unfortunately, we continue to get reminders that pet waste is a problem, especially for those of us who enjoy our walks. So, please don't be the cause of your dog getting a bad rep, when it's not his/her fault.





TRADITION BOARD OF DIRECTORS
Frank D'Amato, President
235-8885
Bill Renault, Vice President
235-3566
Harry Stewart, Secretary
237-1305
Tom Ellison, Treasurer
235-8071
Celise McLaughlin, Director
235-8532
Jim McPhail, Association Mgr


E-Mail:Tradition@chicora.net



272-8700



---
P5
Return to Top
2006 League Tournaments
TLGA President's Cup
September 12th and 14th
Low combined net over the two days.
1st – Suzanne Strasser
2nd – Joan Sheldon
3rd – Joanne Stewart
4th – Kathy MacSorley


President Gail McLaughlin with Suzanne Strasser

Final tournament of the year
The Club Championship
October 10th and 12th
Low combined gross in flight over the two days
Club Champion – Joan Sheldon
B Flight – Debbie Massie
C Flight – Bobbie Fleiss
D Flight – Dot Franco
E Flight – Judy Gambeski
Kudos to all for a well-played tournament.


Both events were followed by a dinner catered by Magnolia's Restaurant at the resident's club house. Thank you to both committees.

TLGA AWARDS LUNCHEON
DECEMBER 6, 2006


The Awards Luncheon was truly a display of "Smiling Faces. Beautiful Places". Nancy Malara, who received the Most Improved Golfer Award clearly had the biggest smile of the day. Austins Restaurant reflected the festivity of the season and that was kicked up a notch with Gingerbread Men and Candy Cane Bouquets as centerpieces. Home made baked goodies were included in the door prizes to round out the Holiday Treats theme. Great job by Pat Kemper and committee and congratulations to the 2006 Award Winners



Lowest Net: Pat D'Amato (62)
Lowest Gross: Joan Sheldon (71)
Most Improved: Nancy Malara (10.6)
Overall Low Gross: Joan Sheldon (80)
Overall Low Net: Joan Sheldon (72)
Most Birdies: Joan Sheldon (32)
Hole in One: Pat D'Amato #2
Low Putts: Betty Ruff (29)
Broke 90: Suzanne Connell

Broke 100: Joanne Stewart, MaryAnn Keller, Carolyn Pacella


First Birdies: Jean McElroy, Linda Lehmann, Dot Franco
Viv Coughlin, Carolyn Pacella, Nancy Gaffney
Eileen Belbutowski(not pictured)

---
P6
Return to Top
Clay DuBose, CGCS
General Manager/Golf Course Superintendent The Tradition Club

caddbs@hotmail.com

During the winter months the golf course maintenance staff has been busy with many projects. Some of those projects include drainage on holes # 7 and 16, select bunker drainage on certain holes throughout the golf course, cart path yardage marker additions, limb pruning, adding mulch to beds around the course, and leaf removal. We have also removed quite a few trees through out the property as some of you may have noticed and there are always questions and concerns regarding tree removal. We are very careful during our selection of trees for removal. Our main concern is to increase sunlight and air movement to the tees, fairways, and greens without compromising the integrity, playability, and original design of the golf hole. We only select non-specimen trees such as water oaks, black jack oaks, laurel oaks, and sweet gum trees to be removed. This allows our specimen trees such as live oaks to spread and use the space they need to properly mature. I hope this answers some of the questions that are raised during tree removal. We have also committed to additional landscape improvements in the coming years.

As you receive this message, spring time should be right around the corner and it's time to start thinking about lawn fertilization and irrigation schedules. A proper time frame for centipede grass fertilization is about middle to late May using a good slow release fertilizer such as a 15-0-15 synthetic or Milorganite 6-2-0 which is an organic 100% slow release fertilizer which most grasses and shrubs love. Lawn fertilization practices on Centipede and St. Augustine grass prior to the middle of May only open the door for spring time diseases which for a home owner are expensive and very difficult to control.

I would like to remind all homeowners that the white post with the green tops are marking the golf course property lines. There have been a few instances where homeowners have crossed these property lines and have either trimmed or cut down plant material on golf course property. We are monitoring these areas carefully and in some cases had to bill property owners for damage to course property, such as tree trimming, removal, and the cutting of vegetation. We do not wish to continue this process, but we will as we see fit. If you see someone disregarding these property lines and/or damaging the integrity of the golf course and its surroundings please contact me at the club.

If you have any additional questions regarding the golf course or club operations, I can be reached by e-mail: caddbs@hotmail.com



The Nine Hole Ladies ended their year by enjoying a luncheon at the True Blue glassed-in porch overlooking the 18th hole. Recognition was given for birdies, chip-ins, most improved and lowest putting average.

The club thanked the retiring board members and introduced the new elected:


Chairwoman Pat Bowen
Co-Chairwoman Barbara Cardea
Treasurer Ann MacDonald
Secretary Jeanette Renault
Social Chair Joan Murren

We extend congratulations and best wishes to our members who have graduated into the 18 Hole Ladies.

We are all looking forward to the upcoming year together, and plans are already in the works for a fun and rewarding season.

---
P7
Return to Top
The Holiday Season passed and winter arrived although as of January you would never know it by the balmy temperatures, returning birds and budding plants. Let's keep our fingers crossed that the real winter season will just skip by us this year.

Regular weekly Monday play continued as the New Year began and participation got back to normal levels once Holiday travel had subsided. Since our last issue much has transpired regarding our Major Tournaments.



At the time of last printing the 2006 Member/Guest was about to start. Let it be noted that Logan Wilton and his son, Michael won the overall title after a spirited and competitive shoot-out elimination that was very exciting. Second place finisher, Ron Mokrynka, along with his guest, Steve O'Brien, put on a chipping and putting clinic in a vain effort to overtake the winning Wiltons. We look forward to August 2007 with great anticipation recognizing the fact that it will be tough act to follow.

Also, at printing time for the Fall Edition the President's Cup finals were still up in the air. After qualifying with two rounds of play the first four finishers squared off in Match Play to decide the overall winners. Ron Brugge finished first, edging out second place finisher, Dick Culver. Wayne Johnson took third by sneaking past Tom Cardea, who came in fourth. Unfortunately more controversy struck at this star-crossed tournament but all worked out for the best and no gunshots were fired.

The Club Championship qualifiers and Flight Matches were completed in September of 06 with Autry Moore now reigning as our new Club Champion. In the "A" Flight, Dick Culver came out on top, with Bill Renault taking the "B" crown and El Presidente, Vince Franco, prevailing in the Gold Division. Congratulations to all.



The Great Turkey Shoot-Out went off without a hitch over the Thanksgiving Weekend and as usual it was a big success. After a great night of dining, dancing and heavy wagering on Saturday evening play started promptly at Noon on Sunday. Twenty men, paired into 10 teams, teed off on hole #1 in our classic elimination Shoot Out. First out honors, along with a consolation cash prize went to the team of Jim McKay and Marty Robic who departed on the first hole. Teams were eliminated either by score or chip-off until the Tom/Tom team of Tom Swanson and Bobby Thompson remained to face Tom Strasser and Len Vercellotti, Lenny and the Leftie. After some great shots on hole #9 resulting in a tie they returned to the tee box for a repeat. After the dust settled it was Strasser and Vercellotti on top.

In December the two-week "Ringer" tournament took place where the best net scores for each hole in two rounds were recorded. Vinnie Autorino finished on top with a Net 60 and Rich Becker, after a match of cards came in second with a Net 61. Howard Krauth, also with a Net 61, finished in third place.

Our annual Men's Club Christmas Party and Dinner held on December 7th at Kimbels Restaurant was a great evening filled with Holiday spirit, good food and drink and dancing to the tunes of our resident entertainers, Latitude. As part of the festivities our President, Vince Franco, gave the annual "Outstanding Achievement" awards to Dale Guzlas, John McLaughlin and Paul Kelly for their service to our Men's Club throughout the year.

The 2007 Schedule is now set and posted on the Web Site. With the help of all of our committees it promises to be another great year, aided by a great membership; in fact the best Men's Club on the strand, bar none! We may not be able to outplay all other clubs but it's a good bet we can out-eat and out-drink them all.
HOLE IN ONE CLUB
Hole #2
Jim McKay 8/4
Phil Fleiss 10/23
Hole #5
Alan MacDonald 8/7
Ed Sheldon 10/23
Hole #12
Ron Mokrynka 9/2
Bill McElroy 10/2
Rich Peterson 11/17
Hole #15
George Baker 10/3
The Class Act award has to go to Mr. Fleiss and Mr. Sheldon who, after getting an ACE on the same day, took turns buying drinks for the Men's Club on two different Mondays. Nice guys, both!
---
P8
Return to Top

qualitykid.com/GoldTees.htm

The Annual Gold Tee Christmas Party was held at the Applewood Restaurant on December 12th. This party included fine food and drink, gifts for all the members and a trivia game developed by Jim Conway and won by Ernie Heilberg. Arrangements were made by Eddie Sheldon.

Dave Philips was recognized as the Gold Tee Player of the Year and Bill Davitt received the Most Improved Player award.

Each week, Bill Huish takes pictures of our winning teams. The pictures are then placed on our web site.

We are now up to 89 members and growing. This group is composed of a great bunch of guys who play nine holes of golf from the gold tees on Wednesdays. Our primary purpose is to have fun, enjoy good fellowship and improve our golfing skills. Players of all handicaps are welcome. Contact Bill Huish at 237-5631 if you are interested in joining us.



MEALS ON WHEELS

When you can't cook due to surgery or illness;
Your Neighbors will help
Contact Claudia Krauth at 237-7544

Golf Tip of the Month
By Steve Dresser


We have moved the school to our new quarters at True Blue and Caledonia. I'd like to take this opportunity to thank all of you for your generosity, kindness and of course, your patronage during the last 11 years. It is difficult to put into words just how much your support has meant to me. You have a very special and unique situation at Tradition Club. I've worked at many golf courses throughout my career but never have I seen such a close – knit group not only at the golf course, but throughout the entire community. While I was neither a member of the club nor resident of the community you all went out of your way to make me feel like I belonged. Whether it was taking lessons, purchasing clubs, bringing me Christmas goodies, buying me a beer (after work, of course) or buying Girl Scout cookies from my daughter (Get your wallets out. It's that time of year again!) you all were there for me and I can't begin to tell you how much I appreciate it.

We settled into our new building the end of January. Soon we'll be in touch regarding an open house to show you our new facilities. We are conducting schools and giving lessons. If you are in the middle of a lesson series or have a gift certificate, come on down and we'll take care of you. The phone number for appointments is still 650-2272 and we'll always extend a special discount to Tradition residents.

Oh yeah, now for the tip of the month. This one has to do with the short game. Many players are too wristy with their chips and short pitches usually because they're trying to scoop the ball in the air. To combat this "flipping affliction" make a few short practice swings ignoring the clubhead and the ball and focusing on the grip end of the club. As you follow through, make sure the grip end of the club leads and the clubhead lags. If you're right handed, your left wrist will remain firm and the grip end of the club will clear the left side of your body. The shaft should remain nearly perpendicular to the ground and the club head should finish low. Remember, on short chips and pitches to "Swing the grip past your hip" as you follow through.

Good Luck with your golf!
---
P9
Return to Top
Tradition Gourmet Diners
qualitykid.com/gourmet.htm

The Gourmet Diner's Season 5, Best of the Beach, features recipes from local restaurants on the Grand Strand. Appetizers to desserts of fine dining from Franks Outback, Bella Napoli and City Bar to name a few. The season closes with a beach party at the pool house on May 9th. At that time this committee with be hanging up our aprons. Anyone wishing to take over as chair person for Gourmet Diners should contact Celise McLauglin @ 235-8532.


SMOKED SHRIMP DIP

From Taste Buds for our November appetizer
8 cleaned, chopped shrimp
1 cup heavy cream
1 cup softened cream cheese
1/2 cup smoked Gouda
1/4 cup red pepper, diced
1/4 cup onion, diced
salt & pepper to taste
Romano cheese, grated
Preheat oven to 400o; Sauté red pepper and onion until lightly browned. Add heavy cream and shrimp. Over medium heat incorporate cream cheese, Gouda and salt and pepper until creamy. Pour in small baking dish and top with Romano cheese. Place in oven until top is browned, about 15-20 minutes. It will thicken slightly as it cools. Serve with crackers.

Best of the Beach Cookbooks for sale $5.00




MAH JONG
If interested in playing
Call Lynn Autorino 237-7745

NEEDLE WORKERS

Fridays from 10 AM to 12 Noon
at the Resident's Clubhouse
Call Loretta Espey @235-3518

Tradition Garden Club
By Pat Crimmins

qualitykid.com/garden.htm


We hope many of you had a chance to join us at The Exchange in December for the first ever "Sweets and Treats For Ladies Only". This was a table-top-tree decorating contest featuring members of our Tradition Garden Club oh-so-fashionably trimming three trees. Proceeds on the auctioned trees went to Hospice. It was such a success, we plan on doing it all over again next year but hopefully involving other area garden clubs for an even more exciting competition.

Our programs have been varied and informative during the first half of the year. Topics such as Vitex, Garden Design and Wild Flowers have been presented so far. Coming up will be discussions on African Violets, Nature Photography, Herbs, and, yes, Snakes! As you can see, our scope is varied. It's never too late to come join us. The second Tuesday of each month will find us at the Residents' Club House at 9:00 AM. Come see what you've been missing.



WALK & TALK (Aerobics)


The Walk and Talk group meets at the Pool Clubhouse every M, W, F at 9:00am. We walk for approximately 45 minutes. If weather does not permit, we do light impact aerobics in the Clubhouse. It is a fun time while getting some exercise. Meet your neighbors and make some new friends.



WATER AEROBICS WILL START IN MAY
weather permitting

At this writing, we have no instructor for that class, but regulars know enough to keep the bodies moving. Join in the fun.
---
P10
Return to Top
| | | | | | | |
| --- | --- | --- | --- | --- | --- | --- |
| | Name | | | | Phone | Address |
| Delete | Bisbano | Bob | & | Phyl | 237-3142 | 28 Opera Court |
| | Chepy | Ken | & | Cathy | 237-2051 | 1475 Tradition Club Drive |
| | Collins | John J. | & | Sybil Hurd | 235-2605 | 140 Boatmen Drive |
| | Condon | Frank | & | Therese | | 150 Deacon Drive |
| | Dale | Ann | & | Anthony Freda | 235-9083 | 137 Tradition Club Drive |
| | Freda | Anthony | & | Ann Dale | 235-9083 | 137 Tradition Club Drive |
| | Gaffney | Tom | & | Nancie | 237-4165 | 56 Historic Lane |
| | Haslacher | Ludwig | & | Marianne | 235-9196 | 13 Crab Trap Court |
| | Hurd | Sybil | & | John J. Collins | 235-2605 | 140 Boatmen Drive |
| | Ingram | Sonny | | | 235-9787 | 66 Basketmaker Court |
| | Logan | Andrew | & | Melissa | | 38 Opera Court |
| | Palace | James | & | Yvonne | 235-3190 | 129 Alexander Glennie Drive |
| | Pugliese | Frank | & | Barbara | 237-5155 | 14 Brookridge Lane |
| | Roberson | Lanny | & | Patsy | 235-0118 | 67 Historic Lane |
| | Testerman | Bob | & | Pat | 235-2007 | 66 Historic Lane |
| | | | | | | |
| Add | Blouin | Linda | | | | 137 Tradition Club Drive |
| | Castanera | William | & | Patricia | 237-0185 | 14 Brookridge Lane |
| | Gallup | Carol | | | | 150 Deacon Drive |
| | Jackubowski | Thomas | & | Lynn | | 28 Opera Court |
| | Mahon | John | & | Sally | | 13 Crab Trap Court |
| | Mendenhall | Diane | | | 237-9441 | 129 Alexander Glennie Drive |
| | Quadrozzi | William | & | Elaine | | 1475 Tradition Club Drive |
| | Rucker | Eric | & | Bernice | | 66 Historic Lane |
| | Schaap | Larry | & | Reta | | 56 Historic Lane |
| | Swontek | J. Thomas | & | Maxine | | 38 Opera Court |
| | Walker | Ethel | | | | 67 Historic Lane |
| | Ward | Lawrence | & | Rosemarie | | 140 Boatmen Drive |
| | Wilson | John | & | Lee | 237-1962 | 66 Basketmaker Court |
| | | | | | | |
| Correction | Gallup | Candy | | | 235-2038 | 150 Deacon Drive |
| | Hayes | Paul | & | Janice | 237-3832 | 341 Historic Lane |
| | Jacobucci | Thomas | & | Finola | 235-8033 | 77 Deacon Drive |
| | Lacy | Pat | & | Liz | 237-5701 | 73 Cobblestone Drive |
| | McElroy | Bill | | | 237-5523 | 694 Tradition Club Drive |
| | McElroy | Jean | | | 655-1645 | 694 Tradition Club Drive |
| | McLaughlin | Kelly | & | Gail | 237-1823 | 50 Basketmaker Court |
| | Quadrozzi | William | & | Elaine | 237-5207 | 1475 Tradition Club Drive |
| | Runac | Pam | | | 235-1273 | 867 Tradition Club Drive |
| | Schreiber | Tom | & | Mary Ann | 237-3101 | 56 Alexander Glennie Drive |
| | Vercellotti | Leonard | & | Theresa Mishik | 235-9931 | 968 Tradition Club Drive |

The tradition telephone directory point of contact:
David Philips, 237-0494, davidcphilips@msn.com
---
P11
Return to Top
Clubhouse Bridge

We continue to look for ladies who are interested in joining us in an afternoon of fellowship around the Bridge table at the Clubhouse from 12:30 to 4:00. You do NOT have to be an advanced Bridge player to join our group, we welcome ALL players interested in this ever changing shuffle of the cards. Please call Suzie Albright at 237-1594 or Elsie Siebert at 235-8429 so we know how many people will be playing. Hope to see you there!

Marathon Bridge


Couples Marathon will have their awards party at the Tradition Homeowners Club House on June 8, 2007. The Ladies Marathon will be on June 6, 2007 at Pawleys Plantation. Everyone involved should mark your calendars as we would like 100% participation and we know everyone will have to plan ahead. Hope to see you there. Call Danny Phillips with any questions 235-9338.
---

THE TRADITION HEALTHCARE FORUM
By Frank Walsh Retired Pharmacist



Activities
Community Health Fair – June 13, 2006
Flu Shot Program – November 06, 2006
Stroke Seminar – January 12, 2007
Spring & Summer Health Fair – 2007



Dementia
Reported in the Mayo Clinic Health Letter 12-12-06:
"The drug Aricept may slow brain shrinkage in pre-Alzheimer's disease. A drug thought to reduce the risk of progressing from an early form of dementia – mild cognitive impairment – to Alzheimer's disease also appears to slow the rate of brain shrinkage (Atrophy) a component of Alzheimer's disease. Mayo Clinic researchers say measuring changes using a series of MRI studies should be helpful in assessing the effects of drug therapy in future clinical studies for mild cognitive impairment and Alzheimer's disease."


Hypothyroidism, another factor, with similar symptoms, not related, but of interest. According to the Merck Manual, second home edition, "Insufficient thyroid hormone causes body functions to slow, symptoms are subtle and develop gradually. They may be mistaken for depression especially among older people. Some older people may appear confused, forgetful or demented, signs that can easily be mistaken for Alzheimer's disease or other forms of dementia. Diagnosis can be with one simple blood test for the measurement of the Thyroid Stimulating Hormone (TSH). Many experts suggest that the test be performed at least every other year in people over 55 years of age. The Physicians Desk Reference (PDR) 7th edition lists Synthroid, a synthetic thyroid hormone, as the second most widely prescribed drug of all the drugs prescribed for all diseases and treatments. TSH tests were given at the Tradition Health Fair last summer and will be on the agenda at the next fair.
BOOK EXCHANGE - ADDS JIGSAW PUZZLES
NEW! The Owners club house is adding jigsaw puzzles to the Book Exchange.
Bring your puzzles and take a puzzle.
Please keep this area as neat as you find it.
---
P12
Return to Top
SWING INTO SPRING
qualitykid.com/Community/CommunityCalendar.htm
This will be updated on the newsletter webpage as events are added or changed

WEEKLY AT THE RESIDENT'S CLUB HOUSE
MONDAYS

Aerobics* 9:00 a.m.
Bible Study 10:00 a.m.
MAH JONGG 7:00 p.m.
WEDNESDAYS

Aerobics 9:00 a.m.
Ladies Bridge 12:30 p.m.
FRIDAYS

Aerobics 9:00 a.m.
Needlework 10:00 a.m.
*Water Aerobics Starts in May (weather permitting)


MONTHLY AT THE RESIDENT'S CLUB HOUSE subject to change
First Tuesday
First Wednesday
Second Tuesday
Third Wednesday
Fourth Thursday
First Friday
Last Thursday
Building & Grounds Meeting 7:00 p.m.
Mexican Train 6:00 p.m.
Garden Club 9:00 a.m. & Covenants Meeting 7:00 p.m.
A.R.B. Meeting 7:00 p.m.
B.O.D. Meeting 8:00 a.m. or 3:00 p.m.
Duplicate Bridge 7:00 p.m.
Men's Poker 7:00 p.m.


SPECIAL EVENTS

FEBRUARY

FEBRUARY EVENTS

10&11
Tradition Owners Art Show
27
Annual Property Owners Meeting
MARCH

MARCH EVENTS

14
Gourmet Diner's Volcanic Vibrations
17
St Patrick's Day Wine & Cheese Dance
APRIL

APRIL EVENTS

9&16
Tradition Men's Club Memorial Masters Tournament
19&26
Tradition Ladies' Golf League Ringer Tournament
MAY

MAY EVENTS

5
Community Yard Sale
9
Gourmet Diner's Finale
13
Mother's Day
14&21
Tradition Men's Club Member/Member
16&17
Tradition Ladies' Golf League Member/Guest
27
Pre Memorial Day Tournament
28
Memorial Day Observed
SAVE THE DATE
Pool House Dances this year
June 23 Pool Party
July 28 Pool Party
Sept 22 Tailgate
Oct 28 Frogmore Stew Party

-- end of newsletter --